Well Wisdom - Vital Whey Cocoa
Regular price
£55.99
/
Tax included.
Shipping
calculated at checkout.
Free UK Shipping on all orders over £150
Finest Whey Protein Available




Non-Denatured and Biologically Active




Immune boosting & Powerful Detoxifier




Great for Muscle Building




Anti-Viral & Anti-Microbial




Improved Liver Function




100% Grass Fed, Disease Free Cows




Chemical, Pesticide, Hormone & GMO FREE
The Stats speak for themselves. The Finest Whey Protein® available!
Vital Whey® Cocoa is made with Proserum® The Finest Whey Protein® available. Many protein powders are extensively processed during production, denaturing (destroying) many of the active proteins, which eliminates the immune-modulating benefits. Proserum is a proprietary, undenatured, natural whey protein powder that is produced to maintain the full range of all the fragile immune-modulating and regenerative components present in fresh raw milk. This is the finest minimally processed, biologically-active, undenatured native whey protein available on the market. Minimal processing means it contains the highest possible quantity of active immune-modulating proteins, such as immunoglobulins, lactoferrin, serum albumin, peptides, and growth factors
The milk for Proserum is derived from cows that are grass-fed and graze year-round on natural pastures. It is GMO-free, hormone-treatment-free, pesticide and chemical-free.
Vital Whey® Cocoa is a delicious, 100% natural nutritional protein perfect for adults and children. Our unflavored protein powder can be mixed into any smoothie, shake, or other dishes for an added boost of high quality protein. 
In addition to its many health-promoting properties, it is a great way to manage hunger and sustain lasting energy levels. Vital Whey® unflavored whey protein powder is the best choice for the parent in search of the healthiest snack for themselves and their children. 
Vital Whey protein powder also supports the needs of the athlete looking for the perfect pre- and post-workout supplement, or anyone interested in optimal health. When you try it, you will agree it is the Vital Whey to health.
All Vital Whey products have a 2 year shelf life from the date of manufacture.
Optimal Protein Supplementation
Provides essential amino acids in correct balance

Excellent source of critical branch-chain amino acids; 

including leucine, isoleucine and valine

Improves muscle strength

Supports lean body mass

Contains growth factors and critical protein 

fractions

 to support immune function

Helps maintain overall health and energy

Promotes antioxidant synthesis (Glutathione precursors)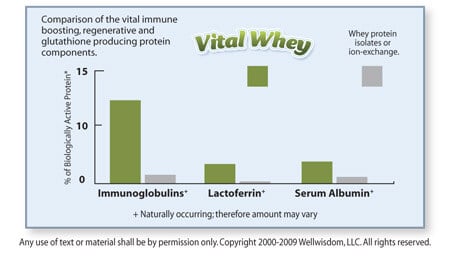 UK Mainland Order
Items up to 20kg - £5.95 Uk Mail 48 Hour or Royal Mail Tracked (2-3 day service)
Items over 20kg - £9.95 Uk Mail 48 Hour or Royal Mail Tracked (2-3 day service)
Orders over £150 - Free delivery, dispatched by Royal mail tracked 48 Hours (2-3 day service)
Shipping options:
DPD 24 Hour - £7.95 (Orders placed before 2pm Monday to Friday will be dispatched same day, on the DPD 24 Hour Service. Although the service has a very high next (working) day delivery success rate, this is not a guaranteed service and we will not offer refunds for any delivery charges paid, if orders are not delivered next day. 

DPD provide a 1 hour delivery window by email or text. 
Not going to be in?How can I change my 1 hour DPD delivery slot?
You can't change your time slot but you can still get your parcel.
DPD can leave your parcel somewhere safe at the delivery address, deliver it to your neighbour, or drop it off at your local shop.
DPD have the best parcel shop network in the UK, there are over 2,500 convenient Pickup Shops — that's one within a 10-minute drive of 93% of the population. In London, that jumps up to an average walking distance of just 5 minutes.

Northern Ireland, Offshore, Remote Area Postcodes:
Up to 2kg £5.95 Royal Mail Tracked 48 Hour
Over 2Kg - DPD 48 Hour £15.95
We aim to dispatch all orders placed before 2pm on the same day. We do not dispatch on weekends, so orders placed after 2pm on a Friday will be dispatched on Monday regardless of the shipping option selected.
All delivery times quoted are in working days (i.e. Monday to Friday, excluding Bank Holidays). Although on occasion of our delivery partners, at their discretion, may attempt delivery on Saturday for your added convenience.
If an item is out of stock, we will notify you by email to let you know. You have the option of a refund on this item, or to place the item on back order, we will advise when the item is expected to return back in stock.